Nuovo corso SPNGN1 a Milano!
11/30/2015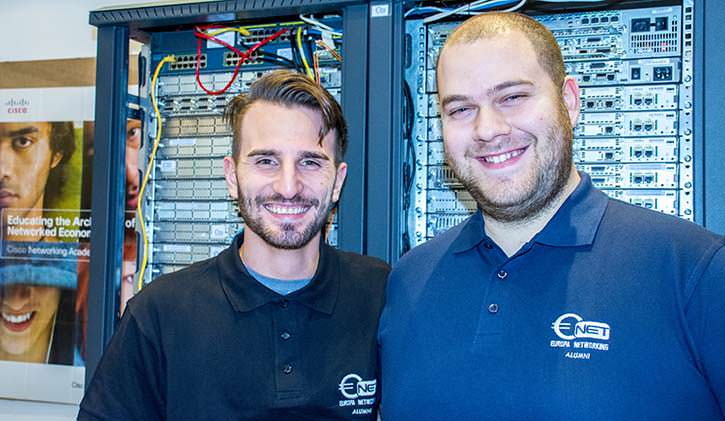 Il corso Cisco SPNGN1 - Building Cisco Service Provider Next-Generation Networks, Part 1 - è erogato in modalità CLP dal lunedi al venerdi in orario 9:00 - 18:00. Le lezioni si svolgono presso la nostra sede di Milano, Viale Monza 7.
Il percorso di studi trasmette le conoscenze di base necessarie a comprendere e implementare reti in contesto Service Provider. L'approccio a topologie altamente scalabili e performanti prevede l'utilizzo di IOS-XR, permettendo ai partecipanti di consolidare le competenze necessarie a supportare attività tecniche presso un tipico ISP.
Le lezioni trattano i seguenti argomenti:
Describe the purpose and function of IP and data network devices
Describe QoS, MPLS, multicast, high availability, and VPN technologies
Describe and differentiate IPv4 and IPv6 addressing schemes
Describe and configure switched and routed network technologies
Configure IP services like NAT and DHCP - Configure Cisco IOS, IOS XE, and IOS XR software on Cisco platforms
Configure transport, access, and edge technologies, as well as security in the network
Configure network management protocols like Netflow, SNMP, and CDP on Cisco platforms
Il corso prepara i partecipanti all'esame di certifica Cisco 640-875, che può essere sostenuto presso il nosto Test Center autorizzato Pearson Vue.
OPEN DAYs: Visita i nostri Labs - Presentazione dei percorsi formativi
Martedì 15 Dicembre h. 19:00 - Brescia
Martedì 12 Gennaio h.19:00 - Brescia
Lunedì 18 Gennaio h. 19:00 - Bergamo
Sabato 30 Gennaio h. 10:00 - Milano
Giovedì 11 Febbraio h. 19:00 - Milano
Siete benvenuti! (la partecipazione all'Open Day è gratuita; è gradita la prenotazione via mail)
Per informazioni: info@europanetworking.net
Back to news