Switch | Robust Industrial Design
04/20/2022
Catalyst ie 9300 rugged series (Cisco)
_ Pensando ai nostri Clienti Industrial, ricordiamo gli switch Cisco Catalyst ie 9300 rugged series progettati sulle esigenze tecniche delle reti industriali per fornire alte performance anche in situazioni di criticità climatiche/ambientali (settori energetico, trasporti, estrattivo, smart city, oil&gas).

Tra le caratteristiche dei nuovi apparati:
Unprecedented performance _ Improve efficiency with higher switching capacity, improved quality of service (QoS), and high precision time synchronization.
Industry-leading operational security _ Use link encryption, segment your network, and reduce cyber risk by assessing the security posture of connected industrial endpoints.
Automated and scalable fabric _ Bring the automated and agile Cisco SD-Access fabric to the IoT edge to enable zero-trust security in operation environments.
Ease of management _ Stack up to eight switches to appear as a single switch, without increasing management complexity.
Granular visibility _ Increase uptime with detailed visibility into connected assets, applications, and network health.
Industrial grade _ Multiple redundancy protocols, ruggedization, and industry certifications make the series suitable for a wide variety of use cases.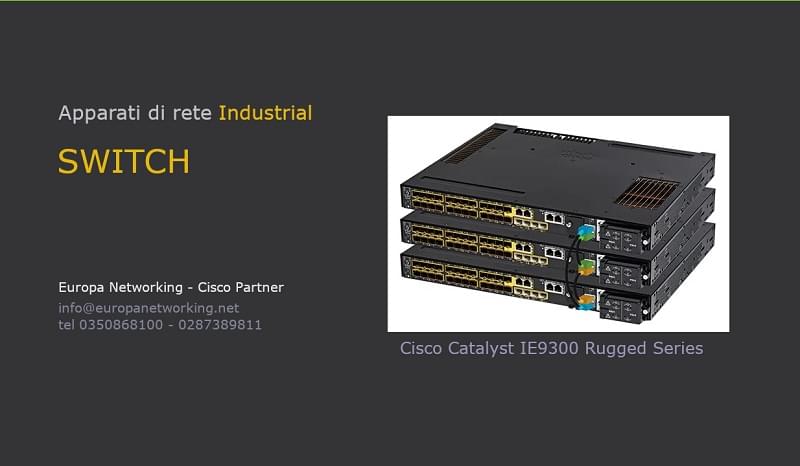 Il produttore Cisco è naturalmente una garanzia di qualità. Contattateci per approfondimenti ed un appuntamento con il nostro responsabile tecnico Rocco Tessicini. info@europanetworking.net - tel +39 0350868100 / +02 87389811 - WhatsApp +39 3475798148

***
Apparati di rete
Industrial
Cisco Catalyst
Fornitura, Progetti e Soluzioni > Europa Networking - Partner Cisco
Ambienti multi-vendor > Soluzioni Europa Networking

Training | Advanced - per i professionisti delle reti > Corsi intensivi Cisco Learning Partner
Back to news