CCNP Collaboration - CIPTV-1
Implementing Cisco IP Telephony and Video, Part 1 (v.1)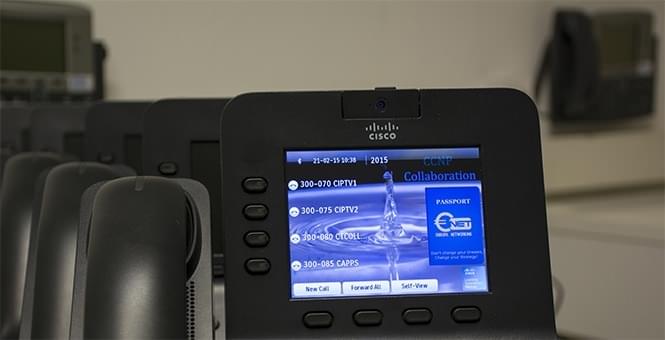 Cisco IP Telephony & Video, Part 1 (CIPTV1) v1.0 is a five-day course that prepares the learner for implementing a Cisco Collaboration solution at a single-site environment. This course focuses primarily on Cisco Unified Communications Manager Version 10.x, which is the call-routing and signaling component for the Cisco Collaboration solution Lab exercises included in the course help learners to perform post installation tasks, configure Cisco Unified Communications Manager, implement MGCP and H.323 and, SIP trunks, and build dial plans to place single site on-cluster and off-cluster calling for voice and video. Learners will also implement media resources, audio and video conferencing, and describe QoS.
Prerequisites:
The knowledge and skills that a learner must have before attending this course are as follows:
Working knowledge of fundamental terms and concepts of computer networking, including LANs, WANs, switching and routing
Ability tu configure and operate Cisco routers and switches and to enable VLANs and DHCP
Basic of digital interfaces, PSTN, and VoIP
Fundamental knowledge of converged voice and data networks
Course Objectives
Describe Cisco Unified Communications Manager, including its functions, architecture, deployment and redundancy options, and how to install or upgrade.
Perform Cisco Unified Communications Manager initial configuration and user management.
Configure Cisco Unified Communications Manager to support on-cluster calling.
Implement PSTN access in Cisco Unified Communications Manager and to build a dial plan in a single-site Cisco.
Implement Cisco Unified Communications Manager media resources. Implement Cisco Unified Communications Manager features and Iscrizione onlines.
Real Labs: Real Labs: You have direct access to lab equipments during the Classroom training and remote access during the distance learning training.
Module 1: Cisco Unified Communications Manager Introduction
Module 2: Dial Plan Introduction and Implementation of Single- Site On-Cluster Calling
Module 3: Implementation of Single-Site Off-Cluster Calling
Module 4: Media Resources
Module 5: Audio and Video Conferencing
Module 6: Quality of Service
| | | | | |
| --- | --- | --- | --- | --- |
| COURSE | BEGINNING | END | NOTE | FEES |
| CIPTV - 1 | | | Customized Dates | € 2.700 + IVA or 35 CLC |
Our prices are in Euros and don't include VAT/tax.
Fees include: Live instructors' presentations at our facilities, course material ( Cisco official Kits) and CLP Certificate of course completion.
Transport, accommodation, meals and other supplementary expenses are not included in the training fees.
​The admissions will be confirmed by email.
Application Form