IT Essentials
IT Essentials Version 5 PC Hardware and Software Course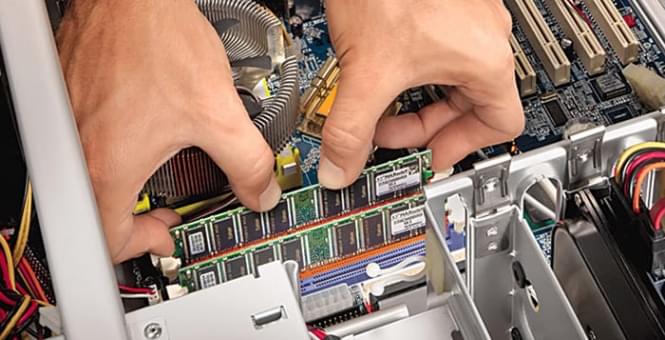 CompTIA A+ 220-801 and 220-802, and EUCIP:

The Cisco® IT Essentials curriculum is designed for Cisco Networking Academy® students in upper secondary schools, technical schools, and colleges or universities who want to pursue careers in IT and learn how computers work, how to assemble computers, and how to troubleshoot hardware and software issues.
This course covers the fundamentals of computer hardware and software and advanced concepts such as security, networking, and the responsibilities of an IT professional. Students who complete this course will be able to describe the internal components of a computer, assemble a computer system, install an operating system, and troubleshoot using system tools and diagnostic software. Students will also be able to connect to the Internet and share resources in a networked environment. New topics in this version include mobile devices such as tablets and smartphones and client side virtualization. Expanded topics include the Microsoft Windows 7 operating system, security, networking, and troubleshooting.

Hands-on lab activities are an essential element of the course. The Virtual Laptop and Virtual Desktop are standalone tools designed to supplement classroom learning and provide an interactive "hands-on" experience in learning environments with limited physical equipment.

Cisco Packet Tracer activities are designed for use with Packet Tracer 5.3. The use of Packet Tracer will support alignment with the new CompTIA A+ certification objectives. Curriculum Objectives

The primary objective of this course is to help students prepare for entry-level IT positions in a variety of working environments:

● Corporate or mobile environments with a high level of face-to-face client interaction. Job titles include enterprise technician, IT administrator, field service technician, and PC technician. ● Remote work environments with an emphasis on client interaction, client training, operating systems, and connectivity issues. Job titles include remote support technician, help desk technician, call center technician, IT specialist, and IT representative. ● Settings with limited customer interaction where hardware-related activities are emphasized. Job titles include depot technician and bench technician.

In addition, students gain confidence with the components of desktop and laptop computers by learning the proper procedures for hardware and software installations, upgrades, and troubleshooting.
By the end of the course, students will be able to complete the following objectives:
Define information technology (IT) and describe the components of a personal computer.
Describe how to protect people, equipment, and environments from accidents, damage, and contamination.
Perform a step-by-step assembly of a desktop computer.
Explain the purpose of preventive maintenance and identify the elements of the troubleshooting process.
Install and navigate an operating system.
Configure computers to connect to an existing network.
Upgrade or replace components of a laptop based on customer needs.
Describe the features and characteristics of mobile devices.
Install and share a printer.
Implement basic physical and software security principles.
Apply good communications skills and professional behavior while working with customers.
Perform preventive maintenance and advanced troubleshooting.
Assess customer needs, analyze possible configurations, and provide solutions or recommendations for hardware, operating systems, networking, and security.
Academy Certificates & Industry Standard Certification

At the end of the course you obtain the Cisco Networking Academy Certificate of course completion. Furthermore the curriculum prepares you for the Cisco certification exams at the Test Centers Vue.
The IT Essentials (ITE) 6.0 curriculum helps students prepare for the CompTIA A+ certification exams 220-801 and 220-802.

● CompTIA A+ 220-801 covers the fundamentals of computer technology, installation and configuration of PCs, laptops and related hardware, and basic networking. ● CompTIA A+ 220-802 covers the skills required to install and configure PC operating systems, as well as configuring common features such as network connectivity and email for Android and Apple iOS mobile operating systems.
We care about instructors!
Europa Networking is an Instructor Training Center.
Our training programs for Instructors:
Our instructors trainings include live presentations, remote access to our Cisco labs and
a dedicated team to assist Instructors in all their needs.
CCAI - Cisco Certified Academy Instructor: CCNP, CCNA and It Essentials
Special trainig for Instructors of the Cisco Netwoking Academy Program for getting qualified to teach CCNP, CCNA and IT Essentials courses.
Our instructors are Network Engineers, Cisco certified and CCAI (Cisco Certified Academy Instructor) with trained methodological and teaching abilities.
Languages : our instructors are able to teach in English, Italian, Spanish and Portuguese.

About Europa Netwoking's Instructors: Our Instructors are certified technicians working in the networking field, actually are some of our students who decide to share with other people their knowledge. Each teacher is then completely aware of the study path to reach a specific certification and remembers very well which are the difficulties and can take advantage of his own experience as students, and professional, to accomodate students during their course.

USAs and UK NATO's Instructors

Our team will gladly provide any further information you may require.
We care about Instructors !
Course location
Calendar courses Milano
| | | | | | |
| --- | --- | --- | --- | --- | --- |
| COURSE | BEGINNING | END | DAYS | SCHEDULE | NOTE |
| IT Essentials | 04/04/2023 | 05/23/2023 | Monday and Wednesday | 15:00 - 18:00 | Open Admissions |
All the tests and the materials (curriculum on line) used in the course are in English.
The lessons for this course may be taught only in Italian
FEES: 600 €
Our prices are in Euros and don't include VAT/tax.
Our fees include in presence lessons (live presentations, exercises and troubleshooting in our real equipments lab) and Certificate of course completion. Transport, accommodation, meals and other supplementary expenses are not included in the training fees.
Admission requirements:
The admissions will be confirmed by email.
Our team will gladly provide any further information you may require.
Application Form