Claudio - CCIE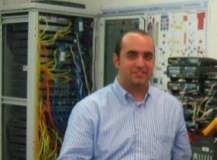 Claudio Sarto, 24 years old. After the IT High School, I went to university; as I did not get any results, I left it and worked with data entry and then as a 3D CAD designer.

In 2005, when I was 23 years old, I decided to look for a job in the IT field, where I knew I could give my best. The problem, however, was to get experience. In August 2005, I found by chance a CCNA course at the Europa Networking Academy on the Internet. So I went there and met my future Instructor, Michele Querci, and Rocco Tessicini. After three days I joined the CCNA course.

In the beginning it was hard because I had lost the habit of studying, but I had motivation. Then studying got easier and I became more and more interested in Cisco Systems' technologies and in networking.

After the CCNA certification, thought not working in the field yet, in February 2006 I joined the evening CCNP course, which was another hard experience: I studied at weekends and took remote laboratory sessions at night with my fellow students.

In July 2006 I obtained the CCNP certification with great satisfaction: I was awarded by Cisco Systems for being one of the youngest Network Engineers.

Later I began to look for a job in the field; lack of professional experience was a recurring issue, so I continued to study and attend the Europa Networking's courses on security: Firewall Specialist, SNRS and SNPA.

At the end of 2006, through Europa Networking's Career Connection, I received a call from one of the most important companies in the networking world, Cisco Systems. I realized that this was the right time, which I couldn't miss. Today I work in this environment, which provides great opportunities for professional growth. But training is still important and I recently joined the Europa Networking's CCIE RS course.
Back to success stories