Bapi - CCNP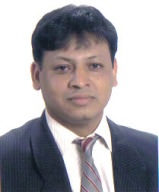 do not know how to begin exactly as I have to say so many things. Any way, let me begin telling something about Cisco Networking Academy which has brought a sea change in my life.
I am an Indian and happened to land in Italy for a visit in the year 2000. It was my unfortunate fate that one day I was left on the street with my passport, documents and money all stolen.
As I was going through the process of remaking my papers, the Italian government had declared an amnesty, allowing immigrants staying illegally in the country to get themselves legalized. I availed of the opportunity and applied for a legal stay permit which took almost 2 years to get it in hand. During the intervening two years, survival was my first instinct.

With a background of an English-medium education and no knowledge of Italian, I found it extremely difficult to find a job to be able to afford a square meal and a bed daily. So I began selling flowers to motorists at the traffic lights. This did not require any Italian language skills. Subsequently, I washed plates and dishes in a restaurant, sold small Chinese-made articles on the beaches during summer, etc. After I received my stay permit, I began working as an unskilled metal mechanic worker in a factory in Brescia. Working 10 hours per day, including on Saturdays, I found the schedule heavy, but I continued for 3 years with no alternatives in view. I then decided to really look for a change in life. A passionate internet surfer, I, one day, came across an advertisement by Italy's Europa Networking Academy, from Bergamo.

I don't remember the exact date, but it is on a very hot summer afternoon in August 2005 that I went to meet the senior instructor of the academy, Mr. Rocco Tessicini. He opened my eyes to the tremendous possibilities and challenges in the world of networking. For the first time in my life I saw the rows and stacks of routers and switches at the academy, and I wondered whether they would make any difference in my life. But the success story that Mr. Tessicini narrated about a bus driver who made it big as a networking engineer fired my imagination and I resolved to take up the challenge. I had already fallen in love with CISCO! Not sure of how I would fare in the new world, I plucked a lot of courage and joined the academy's CCNA course.

It wasn't an easy beginning but the excellent curriculum of the academy that provides ample hands-on experience gradually brought the best out of me. The academy's management and those responsible supported me both economically and morally until I successfully completed my CCNP today. The rest is history At present I am proud of my job as a Network Engineer in a telecommunication company in Milan. I believe the sky is the limit with CISCO, and I hope to earn many more CISCO certificates to enhance my horizons. With CISCO you can never be disappointed. Could you now ever imagine a street flower-seller becoming a Network Engineer? That's the miracle of Cisco Systems Networking Academy. It could happen to you too! Next time, you come across a flower-seller or a dish-washer, don't take him lightly. He could be a future engineer who could fix your networking problems.
Back to success stories