Anderson - CCIE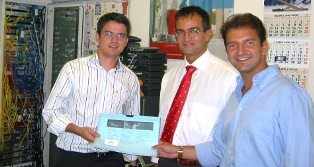 Anderson Mota Alves, a single Brazilian migrated to Europe a few years ago, has just reached the top of his field passing the CCIE lab exam on his first shot at his 26 age. Working in the network field for 5 years, he started studying network in 1999. He was amazed with the possibility to transfer data over cable helping each other's life in sharing data. He remembers his first days with computers when he had to share games like DOOM which use to take him some hours copying files over a lot of floppy disks.

Anderson has followed the CCNA and CCNP academy courses at Europa Networking and later he came back to Bergamo for a one-on-one bootcamp for the CCIE R&S and Service Provider exams.

On July 2006 he was recognized by Cisco Systems Italy as one of the youngest engineers of European Network Academies.

On August 2006 he passes his first CCIE lab exam.

On June 2007 he goes back to Belgium and succeeds on his second CCIE exam, the Service Provider. Now he is one of the instructors of Europa Networking and also works in a Service Integrator with Cisco Solutions such as, Switching, Routing, Wireless and Voice over IP Solutions.

"I think the Cisco has changed the way of companies make business, and it's also responsible for the faster evolution and growth of Internet all over the world, I'm proud to work with their products and I would like to keep on studying to achieve more CCIEs and get more specialized!".

Anderson also thinks that motivation and the right academy to study is the key to learn about network and get a well paid job.
Back to success stories