Vincenzo - CCNP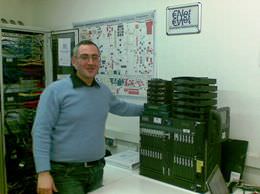 "My name is Vincenzo Milasi.

I always try to achieve my dreams, despite the difficulties, changing from time to time the way to achieve them.

As a child I dreamed of becoming an Engineer; I enrolled in the School of Engineering and exactly on the first day of spring of 2007 I realized my dream, I graduated.



During the study I was fascinated by networking, and whenever I heard the word "Cisco" my mind got excited. I could not afford any Cisco course while I was at the university; when I started working, I immediately invested in training at Europa Networking.

After graduating, I've worked as a systems analyst in Milan, with the goal of completing the CCNA course and entering in the networking world.

It's been even better then I expected, because I had fun while I was learning. I found exceptional fellow students and instructors who gave me not only technological knowledge but also passion for networking. Each week in Bergamo I felt like the child I used to be, dreaming of growing up.

I remember my first certification exam. That morning I had a job interview and to the question "what do you see yourself in 5 years?" I answered "I'll have become CCIE". When I told Rocco about it, he said: "Why in 5 years? You can get there in 2 years". Once certified, I found a job in a major Italian provider. Then, a few months after the CCNA course, I decided to begin the CCNP training path. Now not so long away I see myself in San Jose taking my first CCIE R&S.

If you think you won't achieve your goal, it is only because you do not really believe in it."
Back to success stories