Herbert - CCNP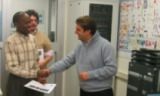 Herbert Wamalwa is the Training Manager of Shalom IT Center, a training institution based in Nairobi Kenya. Shalom IT Center is a department of Shalom House, a project of Koinonia Community. Koinonia is a lay Christian Community founded by Renato Kizito Sessana, a Comboni priest and runs several other projects to support and empower the disadvantaged people in Kenya.

Shalom IT Center currently offers many Information Technology courses like Computer Foundations that is the basis for all the others. The Center is supported by the friends of GEREMIA BOSIO, an Italian who had dedicated his life to make information technology a mean of growth for people. Herbert learnt about the Networking Academy program through Michele La Rosa an Italian Cisco Regional Academy student, CCNA certified then, through a meeting convened by Kizito in December 2004 at Kivuli Center, another project of Koinonia Community to take care of street children.

During the meeting, the idea that Shalom IT Center could become a Local Academy in order to offer It training to poor students in Kenya came true.

In September 2005, Shalom IT Center signed an agreement with Europa Networking, Cisco Regional Academy of Bergamo Italy, to become the first Local Academy in Kenya linked with an Italian Regional Academy under the name Europa Networking – Harambee Networking - Shalom IT Center Local Academy. In November 2005, Herbert came to Bergamo Italy for the instructor training course at Europa Networking together with Michele La Rosa. Engineer Rocco Tessicini took them successfully through the course and they graduated on Friday 2 December 2005.

Partnering with Europa Networking, the Cisco Regional Academy in Italy, the Networking Academy program shall go a long way in achieving this. The whole Koinonia Community together with all their friends and supporters are very excited at this prospect.

The director of Europa Networking - Harambee Networking - Shalom IT Center Local Academy, Herbert Wamalwa has a first degree in Education from the University of Nairobi, Kenya and is currently finalizing his Masters in Science Computer Based Information Systems Degree from Jommo Kenyatta University of Agriculture and Technology, Nairobi Kenya. He would like to pursue all the professional Networking Academy program courses to have the foundation to become a CCIE in future.
Back to success stories