Giuseppe - CCIE SECURITY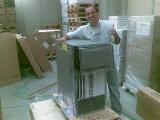 CCIE Security Certified at first attempt, Giuseppe tells us about his training path: "It was like dreaming… !

" I was still in Italy to monitor samples of contaminated soil at a petrochemical plant, when I called Europa Networking ... " said Giuseppe Galati, born in Milan in 1978, graduated in Engineering in 2001. "It was time to make a change in my life".

Giuseppe began his adventure in the Academy by attending the Saturday class with Michele Querci and then with Rocco Tessicini. "Two forces of nature" – Giuseppe joked.

Completed the CCNA course Giuseppe decides to contact the bank to finance his education.

"Extraordinary months! Lessons ended late at night, but during the journey Bergamo-Milan, to get home, I did nothing but think about the night session of workshops. Giuseppe concluded the current CCNP, and has been recognized by Cisco as among the youngest Engineer Network Academy Program: "It was like dreaming".

Then Giuseppe signed his first major contract, and started his CCSP training at the Academy.

"I still do not know how to explain it: I felt not only the desire to learn networking, but also to forward it to others."

Thus Giuseppe began the path to become a CCNA Instructor. "I will never forget my first class, those 10 guys staring at the Academy's Labs."

Now Giuseppe is working with Voip and Datacenter. "What about my future? – he said with a smile - I'm preparing the CCIE Lab in order to come back to the Academy for teaching again".
Back to success stories