Giorgio -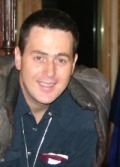 My name is Giorgio Berto. I am a 45-year old Italian. I am writing this in English in order to share my experience with as many people as I can.

I have overall 25 years of experience in IT but I never became specialized in any field. At present, companies hire people with my age only if they have specialist knowledge of IT or prefer to hire younger professionals with limited knowledge for a small salary and train them according to their needs. So changing jobs is really a risk for me at this age.

In the year 2005 my job was taking care of back up and data entry of the mainframes of a big food company. It was a job that included night shifts and national holidays, and required care even over vacations. It seemed to me that I have reached a dead end as I got bored by that job, so on December 31st 2005, I challenged myself to resign from that job and decided to stay at home, study and develop specialist knowledge of the IT field.

I always liked telecommunications and computers. I knew that the engine that moves the world with WWW is fuelled by one of the biggest companies of the world: CISCO. So I started to look for a training institute of networking and I discovered the Cisco Networking Academy Program, which got me curious, and on a fine day I found Europa Networking, a Cisco Academy in Bergamo. On their web site I found all the information I needed. On my first visit, I was astonished by the huge number of switches and routers this school has in its lab. It was enough to join a week later the CCNA course. I am grateful to my instructor Mr. Michele Querci for clarifying many technical arguments. I completed the CCNA course in June 2006, and then I decided to continue studying in this academy. I risked myself and took out a loan to start the next CCNP course with Mr. Rocco Tessicini. He allowed me and my classmates to take many extra lab sessions, apart from regular classes. I enjoyed a lot last summer studying and taking these labs.

At present, even at this advanced age, I am employable and proudly working for Verizon, an American Internet Service Provider in Milan, as Customer Network Engineer for the Italian networks.

If I am successful today, it is all because of a Cisco Academy Program which has moulded me into a useful tool. My future plan is to get onto the highest ladder of CISCO CCIE certification.
Back to success stories