Fabrizio - CCIE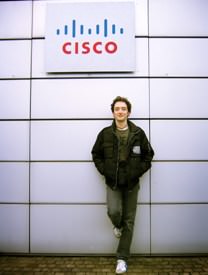 "Hello everyone, I am Fabrizio, 23 years old, from Ostiglia (MN). I can say that my life has changed radically in 11 months.

After completing the Scientific High School and trying 3 universities, I was not entirely satisfied with the way some subjects were taught; I took a sabbatical to understand what I actually wanted to do with my life.

But not meaning to do nothing, so I accepted a job for 2 months in the computer store near home, where I heard about Cisco certifications and how highly these were regarded in the business.

The same evening searching in the Internet for different academies, I found Europa Networking. It's been love at first sight: then reading the students' story in the Hall of Fame I realized it could be the right way.

The next day I called the Academy and after consulting with my parents I decided to enroll in the course beginning in October 2007 in Brescia and taught by Alberto Bonardi. It was what I was looking for: a combination of theoretical explanation and practice directly with equipment, it was like a dream! I found a part-time job to afford the course, and I got the CCNA certification in March 2008.

Then I decided to go on to CCNP. In September 2008, during the ONT, my last CCNP course, a former CCNA colleague working in Belgium asked me if I was interested to occupy his place. How could I refuse? It was a work at the Cisco SMB TAC! I've passed in the job interviews also thanks to the "plus" received during the courses. I took a single flight to Brussels. Wow! Wow!

The initial weeks were really hard, not because of the different language or the relationships with new colleagues (thank to my friend Paolo Grazioli) but rather for the effort to go back and forth between Belgium and Bergamo to complete the CCNP, and maintain a fresh mind to attend the course.

At Christmas 2008 I found myself with a job in Cisco, and about to complete the CCNP training path: a perfect Christmas gift and a great personal satisfaction. I was full of enthusiasm and with the support of Rocco Tessicini I enrolled in the course CCIE in January and on 11 February I passed in the exam: I was so happy! I had my life changed in 11 months.

Then Rocco told me about the CCNA Instructor course. I accepted at once, and at the beginning of March I reached that goal too.

How do I see my future? Very promising, full of personal and professional opportunities and meeting with a lot of new people. Sure I'll keep on improving my skills and attending other Europa Networking courses! "
Back to success stories