CCNP Collaboration - CIPTV-2
Implementing Cisco IP Telephony and Video, Part 2 (v1.0)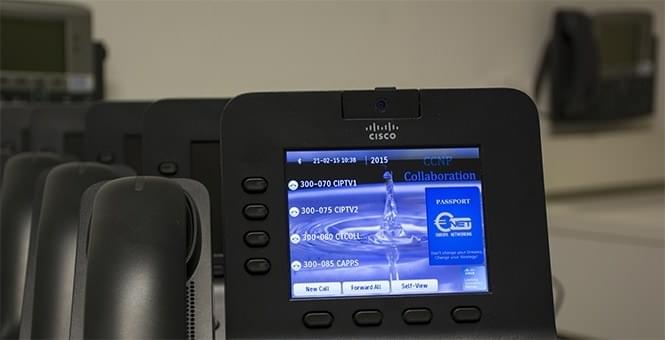 Implementing Cisco IP Telephony and Video, Part 2 (CIPTV2) v1.0 is a five-day course that prepares the learner for implementing Cisco Unified Communications Manager, Cisco VCS-C, and Cisco Expressway series in a multisite voice and video network. It covers globalized call routing, URI call routing, global dial plan replication based on the ILS, Cisco Unified SRST, mobility features, call admission control, integration of Cisco VCS and Cisco Unified Communications Manager, and Cisco Mobile Remote Access on Cisco Expressway Series.
Prerequisites:
Working knowledge of converged voice, video, and data networks
Working knowledge of the MGCP, SIP, and H.323 protocols and their implementation on Cisco IOS gateways
Ability to configure and operate Cisco routers and switches
Ability to configure and operate Cisco Unified Communications Manager in a single-site environment
Course Objectives
Describe multisite deployment issues and solutions, and describe and configure required dial plan elements.
Implement call-processing resiliency in remote sites by using Cisco Unified SRST, MGCP fallback, and Cisco Unified Communications Manager Express in Cisco Unified SRST mode.
Implement bandwidth management and CAC to prevent oversubscription of the IP WAN.
Implement Device Mobility and Cisco Extension Mobility.
Describe and implement CCD deployments.
Real Labs: You have direct access to lab equipments during the Classroom training and remote access during the distance learning training.
Module 1: Multisite Deployment Implementation
Module 2: Centralized Call- Processing Redundancy Implementation
Module 3: Bandwidth Management and CAC Implementation
Module 4: Implementation of Features and Applications for Multisite Deployments
Module 5: Cisco VCS and Cisco Expressway
Module 6: GDPR and CCD
| | | | | |
| --- | --- | --- | --- | --- |
| COURSE | BEGINNING | END | NOTE | FEES |
| CIPTV - 2 | | | Customized Dates | € 2.700 + IVA or 35 CLC |
Our prices are in Euros and don't include VAT/tax.
Fees include: Live instructors' presentations at our facilities, course material ( Cisco official Kits) and CLP Certificate of course completion.
Transport, accommodation, meals and other supplementary expenses are not included in the training fees.
​The admissions will be confirmed by email.
Application Form